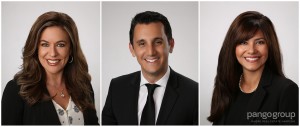 As Pango Group expands its business horizons, personnel infrastructure is also growing to support it. The organization recently announced new hire, Russell Jensen, who joins the core management team as Vice President of Finance.
Jensen will oversee accounting operations with responsibilities that include managing budgeting and supporting the company's initiatives and growth into the next phase of business. His experience spans 13 years, working with venerable institutions including Ernst & Young and non-profit organizations such as C40 Cities Climate Leadership Group and 211 LA.
"We expect that Russell will hit the ground running," says Scott Akerley, Pango Group CEO. "He will work with our Controller to integrate the department and the management team to help us fulfill our mission, which is to run exceptional real estate service businesses that enhance the lives of the people, partners and communities we serve."
Also joining the organization are two new sales representatives for Glen Oaks Escrow. Kellee Sauter, with nearly two decades of experience, will work with the real estate community in San Diego while her counterpart, Lisa Kelly, will support the San Fernando Valley region.
The Pango Group of companies includes Glen Oaks Escrow, American Trust Escrow, CV Escrow, Escrow Trust Advisors, VOI Insurance, and consulting services reaching over 20 offices and 200 employees. Pango Group is one of the leading independent escrow resources in California with locations from Los Angeles to the Coachella Valley and San Diego and have successfully completed the SSAE 16 SOC 1 and SOC 2 Type 1 audit, known as the gold standard in protecting their client's money and identity in a transaction. Pango Group was also recently voted Best Place to Work by the Los Angeles Business Journal for the second year in a row. Broad knowledge of various types of escrows include residential sales, commercial sales, REO, short sales, refinances, bulk sales and mobile homes.